The Castaway way
Castaway Play is an award-winning, proud to be inclusive, leisure attraction. We are all about creating incredible, unique memorable experiences. We want visitors to leave us with smiles on their faces and memories they can taken home, share and keep forever. That's where you come in.
Why work at Castaway Play?
We're proud to employ a team who love where they work and are valued for the job they do. Built on family values we support and encourage every member of our team, whatever their role, to be the best they can be and, should they wish, to progress and grow with us. We do this through supporting and funding development, taking on board feedback and giving on-the-job training.
What we'll ask of you
The experience we offer to our visitors is made all the more special by the service we provide. All team members need to be organised and efficient, to work well under pressure and to take pride in how they conduct themselves. We love to see previous experience in a similar role, but showing a willingness to learn and a strong work ethic is just as likely to land you a job with us. Our team enjoys coming to work and being enthusiastic is vital.
Who are we looking for?
We are looking for candidates who are fun and confident, with high energy and, who above all show passion for what they do. You'll need to be a team player, working with your colleagues to give our customers a safe, fun and memorable experience.
Vacancies
Last updated: 1 April 2023
We are looking for enthusiastic and qualified individuals to join our team at Castaway Play in Congleton. We are looking for a number of positions, including:
We are looking for people who are passionate about working with children and who have a positive and outgoing personality. If you are interested in joining our team, please send your CV to [email protected] or complete the form below. We look forward to hearing from you.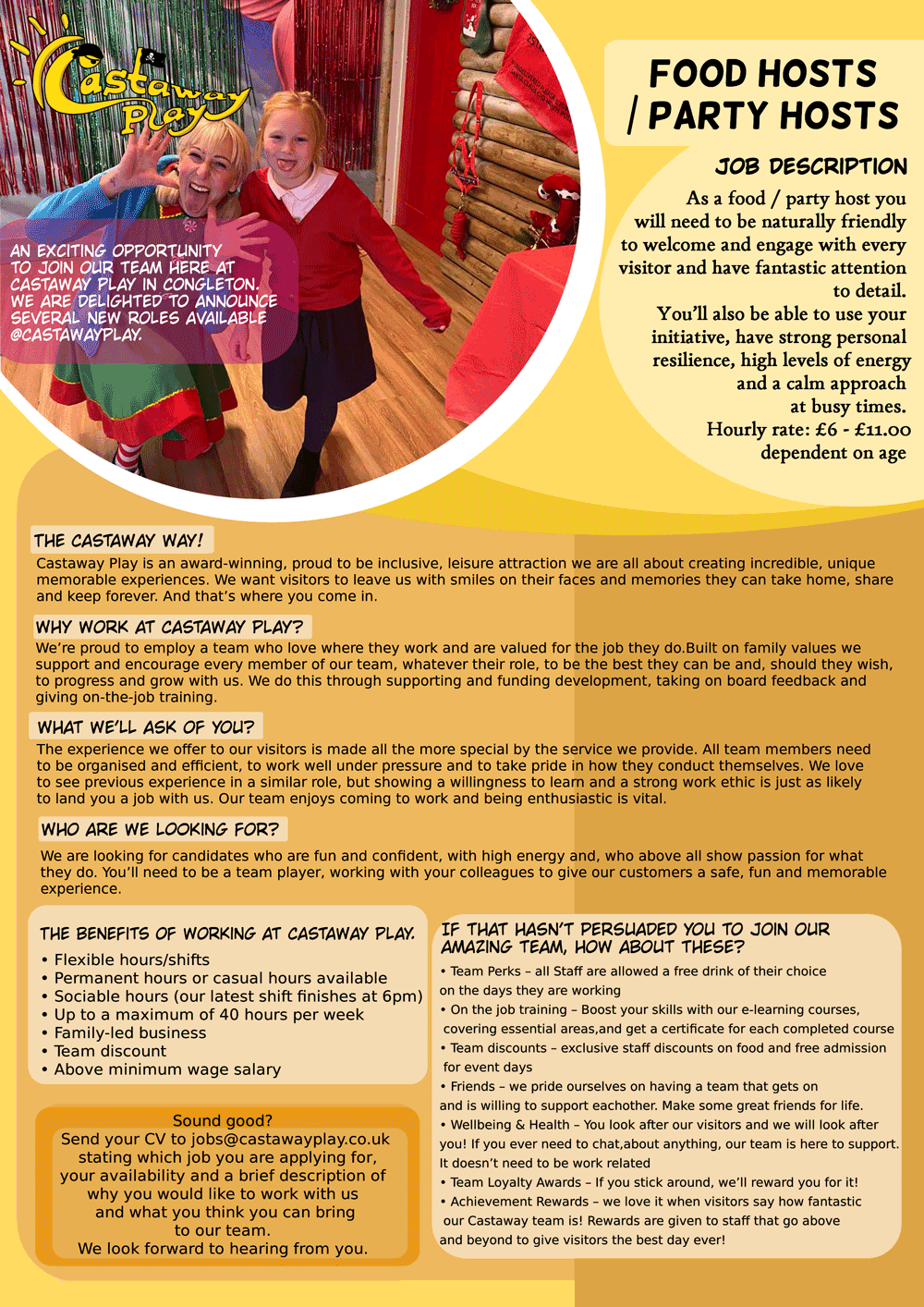 The benefits of working at Castaway Play
There are many reasons why you should consider working at Castaway Play. Here are just a few:
We offer a fun and rewarding work environment
We offer flexible hours
We offer permanent or temporary positions
We offer are a family led business
We offer opportunities for advancement
We offer above minimum wage salary
We offer a team discount
We offer sociable hours. The last shift finishes at 6pm
If that hasn't persuaded you to join our amazing ream, how about these?
Team perks: All staff are allowed a free drink of their choice on the days they are working
On the job training: Boost your skills with our e-learning courses covering essential areas and get a certificate for each completed course
Team discounts: Exclusive staff discounts on food and free admission for event days
Friends: We pride ourselves on having a team that gets on and is willing to support each other. Make some great friends for life
Wellbeing & health: You look after our visitors and we will look after you! If you ever need to chat, about anything, our team is here to support. It doesn't need to be work related
Team loyalty awards: If you stick around, we'll reward you for it!
Achievement rewards: We love it when visitors say how fantastic our Castaway team is! Rewards are given to staff that go above and beyond to give visitors the best day ever!
No recruitment agencies please.
---